follow me on twitter.
VDRemote & VDREmote Pro for webOS
VDRemote is a remotecontrol for the linux based VDR on webOS devices. To be able to use it you need:
network access to your VDR
the VDR-Live-Plugin (tested on 0.2.0)
access to the live plugin configured (without login for the free version, login support for "Pro" from 1.5.0!)
Just install the app, set up your VDRs IP and Live-Plugin-Port (usually 8008 or 6001) in the preferences. Thats it! VDRemote for webOS is self explanatory. You can also see snapshots of your TVs screen on your device. If you have further questions, you can reach me via mail.

I decided to release two versions of VDRemote:
VDRemote Pro has following features, that the basic version doesn`t have:
"repeat" function, when holding down V+,V-,Ch+,Ch-,Up,Down,Left,Right
screenshots will be updated once per second
transparent, hideable buttons in screenshot view (i.e. to work on timers etc. via OSD)
Login supported from 1.5.0 (submitted to Palm for review on 05/31/2010)
Remote view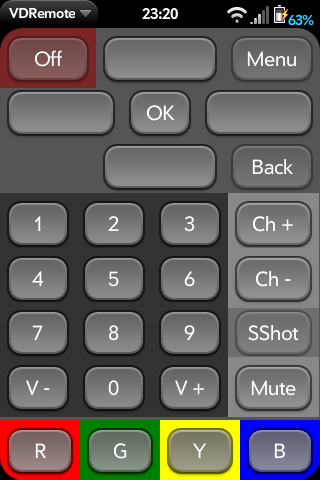 Screenshot view of VDRemote Pro
Screenshot view of VDRemote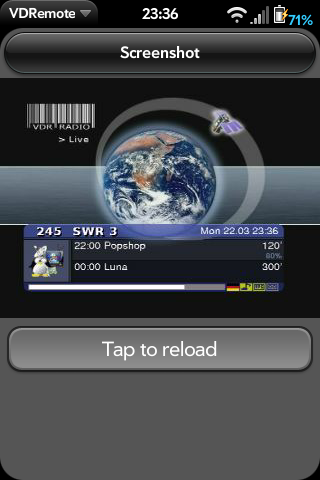 Preferences view